Ibanez Soundgear SR400 bass nut replacement
Posted at 2015-09-15.
The plastic nut on my SR400 was somewhat worn. I didn't find one with suitable measurements in local shops or along with my string order, so I ordered a bone one along with some new strap locks.
Of course that means it's white on a bass with otherwise black hardware. After looking around for dyeing options, I decided to use a sharpie. If it turns out bad, I have a spare one as they come in pairs.
This thing is hardly a beauty queen anyway and I'm mostly interested in function.
The old nut was the sort of hollow plastic you often see. The new one appears to match the dimensions really well with height to spare.
Results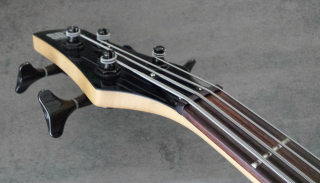 New nut
Sharpie makes a somewhat red black, but with the fingerboard I don't think it looks too far out of place.
I also went around the edges of the truss rod cover and covered up the white layer. This was a good opportunity to tighten the truss rod while re-tuning and check everything.
The nut is probably still a bit unnecessarily high and could be sanded down. I don't expect it to wear fast.
Links